Your book rests on four pillars: your expertise, your purpose in writing it, your readers, and your passion.  Your passion is your WHY for the book: why are you writing it?
You may feel you've already found your "why" with your purpose in writing the book: you've identified its role in your business, so that's the reason, surely? Your passion, though, is a different and deeper kind of motivation. It comes from two places: from your enthusiasm for the subject and from your values, both in your business and personally. Nigel Collin's story illustrates the difference beautifully and highlights the importance of this pillar.
Nigel Collin is one of my absolute favourite clients: bursting with enthusiasm, with the kind of practical, down-to-earth creativity that I instantly click with. He's a business speaker, coach, and facilitator, and the founder of the Ingenious Oz project. Before we met, he spent a while working with creatives in industry on improving their creativity, but he quickly realised that the creatives were just fine – it was the management that needed to do things differently. Managing creatives well calls for a different approach and style to, say, managing sales staff or a finance department. Nige and I first worked together on Herding Monkeys: How to lead the creative talents of your people and get commercial results, about exactly that.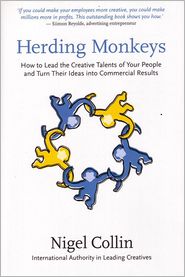 A year or two ago, Nige came to me with a new project. His business was repositioning itself, in response to the market. "Creativity" can be a nebulous, fluffy, even scary word in business: businesses want great ideas, but often shy away from the idea of using this flabby flappy beastie called Creativity to get them. Nige was rebranding his business asThinkativity and taking a much more commerce-driven approach. Even in our first chats about it, a few months before we began work, alarm bells were ringing for me. He sounded frustrated, saying things like, "Well, of course it is creativity, but I can't call it that!" and "You and me could talk about this stuff for hours, but I have to just write about what they want," and "I've just got to write this thing and get it done."
Writing about what they want, giving your readers the information and tools they need, is definitely important – it's one of the four pillars of your book – but it's only one. Nige was sounding increasingly alienated from his readers and from his subject matter. We spent a while working on finding his own authenticity within the book. So this was the subject matter: where was his passion and where were his values within that? He found a few threads, but it wasn't enough. The book started slipping backwards. The structure started flapping loose as he tinkered and wrestled with it. When we worked together before, he had no problem turning out 4000 words a week. This time round, he was struggling to do 100. Even when we spoke, he didn't really want to talk about the book:  I heard a lot more about this madcap exciting plan of driving his motorbike all around Australia than I did about the book.
I was very concerned. I even lay awake some nights, trying to word the email to say, "Your heart's not in this: if you ride roughshod over yourself to write this book anyway, I think you will damage a part of yourself." But how do you say something so loose and "fluffy" in the context of a business book? As his coach, I steered him back on topic, I kept encouraging him to find his own authentic beliefs and interests inside the subject, I adjusted his goals to multiple micro-goals… At this point, most coaches would say, "You can lead a horse to the water, but you can't make him drink." In truth, though, sometimes your job as a coach is to point out that there is no water, however hard someone is trying to drink. Nige wasn't suddenly a lazy git and he hadn't suddenly lost the ability to write: the book had just evolved so far outside his own passion that there was nothing left in it for him. There was no water. His expertise, his clear business purpose, and his excellent knowledge of his audience weren't enough – not without the passion behind it.
With my blessing, Nige backburnt the book. (That's where you shove it on the backburner and hope it burns to ash before you come back to it!) He set off on this madcap motorbike ride, launching the Ingenious Oz project. A year later, having interviewed dozens of business people all over Australia and another 50 entrepreneurs to boot, he came back with a new book plan for us to work on: Game of Inches. No-bullshit, practical, down-to-earth business brilliance and ingenuity. It matches his values. It sits in the exact sweet spot between his expertise, purpose, audience, and passion. He can't stop talking about it. As soon as we started the coaching sessions for the new book, it was galloping along, every session charged with energy and enthusiasm. Now that's the Nige I know! And that's the book Wiley is publishing in May 2016.
A big project like a book needs you to devote a lot of time to it, and a lot of energy and enthusiasm to do all the extra things that make it fantastic – you want to be thinking about it in the shower, having great ideas when you go for a walk, reading up around the subject, pouncing on the latest article that touches on it. You need passion behind you, to do all that. Without passion, though, you might not just get a dutiful, lacklustre book. You might get no book at all.
Look at your own values, for yourself as well as for your business. How does your book sit against those? How many of your values does it tick? If your book's at cross-purpose with your values, there's no value in writing it. When it sings with your values, the whole book sings.
If you want help getting your book's pillars in place, the Find Your Book pack is packed with quick, focused exercises to make sure your book has its four pillars in place from the start. To get a free copy, email me at megan@thoughtleaderbooks.co.uk with a few details about your area of expertise. If you want something to reignite your passion for what you do, This video will light you up. And if you're curious about my passion for what I do, here's what lights me up.
---
Image: Sculpture by Matthew Simmonds, photographed at the On Form exhibition, Asthall Manor, 2014